"100 Percent Juicy Juice"
March 31st, 2015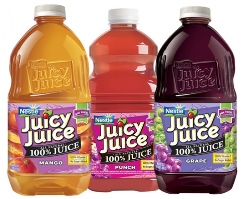 People often say top athletes will compete at anything. Cards, pool, hoops, you name it. It's in their DNA. It is in their blood.
Could Bucs quarterback Jameis Winston be the same type of cat? Well, in his post-pro day press conference, the thing that lit up Winston was when he talked about competing.
"I felt I did great on every throw," Winston said, barely able to sit still he was so excited. "I did great on every throw. I am a competitor. One-hundred percent Juicy Juice. I am a competitor and when it is time to play football, I want to play football."
Winston then went on a hyper sermon about how fortunate he is to be on the cusp of not just being an NFL quarterback, but being perhaps the first pick overall in the draft and the toast of Tampa Bay.
"People don't [always[ get this chance," Winston said. He went on to recount his fellow "brothers" he grew up with who were just as talented but because of bad grades, brushes with the law or some other bad luck, never got to play in college much less be drafted in the first round.
"I am doing it for all of them," Winston said. "I'm representing, I am telling you."