Winston Press Conference Delayed
February 19th, 2015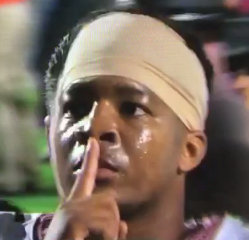 Florida State quarterback Jameis Winston was scheduled to speak today before the NFL media of the world in frozen Indianapolis at Lucas Oil Stadium. Instead, he got delayed.
Before the players meet with hundreds (thousands?) of NFL media, they first must finish their "medicals," which in the NFL is vernacular for intensive medical exams.
By the time Winston would have finished his medicals, he would have arrived just before or after 5 p.m. which is when the Lucas Oil Stadium media center closes, as Michael Signora, the executive vice president of NFL Communications, told Joe.
Winston will face the press tomorrow, Friday, at an undetermined time.
Lastly, Joe has zero idea when that will be. Unlike coaches and executives who are on a strict speaking schedule, potential draft picks are not on any type of schedule to speak. They literally just show up and their podium spot is announced. If lucky, reporters are given perhaps a warning of two minutes. The vast majority of the time there is no advance warning.
Joe does not know whether Winston's press conference will be live on NFL Network, NFL.com or NFL Now. Joe is going to guess NFL Now, but that is just a guess.