Marcus Mariota And The Bucs
February 19th, 2015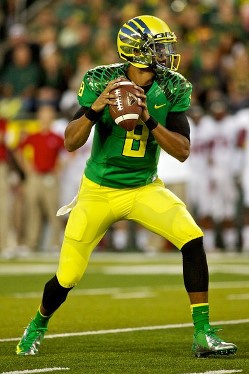 When Marcus Mariota stepped up to Podium-C at the NFL Combine media center to have his much anticipated press conference this afternoon, the very first question (which came from Woody Cummings of the Tampa Tribune) asked how he would react if the Bucs drafted Jameis Winston.
Mariota seemed to shrug his shoulders, as if to say, "Your bad."
"That doesn't affect me at all," Mariota said. "That is going to be their opinion, that is going to be their decision. All I can really control is how I prepare and get ready for whatever team picks me."
Mariota insisted in one aspect, he is no different than any other quarterback.
"Any player will stand in front of you and tell you they are confident in their abilities," Mariota said. "I am no different. I feel like what I have been able to do in college has prepared me for [the NFL] level."
To hear more of Mariota, click the arrow below. Audio player courtesy of Joe's friends at WDAE-AM 620.