Why Not Ted Ginn?
February 27th, 2015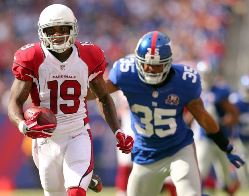 For a variety of reasons, the return game of the Bucs has been anemic since "Run Micheal Run" Spurlock left the team. Historically, the Bucs have been impotent in scoring touchdowns on kickoff returns.
One player dangling out there is Ted Ginn, Jr.
No, Ginn should never been confused with Vincent Jackson. Or Mike Evans. But the guy is a decent No. 3 receiver (nothing more). As a return guy, Ginn in top shelf. Always has been.
Once the free agency dinner bell rings in less than two weeks, Joe sure hopes Bucs general manager Jason Licht has Ginn's agent on speed dial.
You want to make an immediate impact on the return game? Sign Ginn. (Bucs could have had him in free agency last year) After going 2-14, Bucs coach Lovie Smith needs all the impact he can get.