"That Won't Buy Him More Time"
February 11th, 2015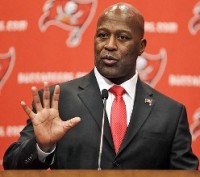 Could Lovie Smith get fired after the 2015 season?
Lots of Bucs fans and analysts think the answer to that question is, "Absolutely."
Another garbage, NFC South basement season (5-11?) in the win-now NFL would end the regime, these folks believe. Especially in a league where first-year coaches often have success. See Andy Reid (2013) and Jim Caldwell, Bill O'Brien and (2014). Heck, O'Brien had garbage at quarterback and his No. 1 overall pick, Jadeveon Clowney, barely played. And we all know second-year coaches surely can win. See Raheem Morris (2010).
But there's also a camp that believes Lovie would buy himself time, another pass for a dreadful season, by drafting a rookie quarterback, such as Jameis Winston or Marcus Mariota. These folks think Team Glazer would never oust a coach less than a year after drafting a potential franchise QB.
Former Bucs guard Ian Beckles (1990-1996) is not in that latter group. The mere notion made Beckles hot on the radio this afternoon, during the Ron and Ian show on WDAE-AM 620.
"That won't buy him more time," Beckles said of Lovie.
"The Glazers don't give a crap why you're not winning."
Beckles went on to say more losing from Lovie would make him "no better than Greg Schiano."
Beckles remains horrified by Tampa Bay's regression under Lovie and maintains the team is such a mess it should trade down out of the No. 1 overall pick to stock up on draft picks.