Mariota Has A Tutor
February 11th, 2015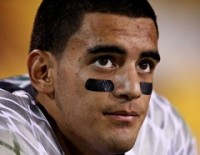 It's the time of year when hot NFL prospects pay big bucks for private coaching and head to places like IMG Academy in Bradenton to spend every waking hour tuning up their bodies.
The NFL Scouting Combine is next week in Indianapolis. (Yes, Joe will be there mingling and mining information, and talking to Lovie Smith.)
University of Oregon quarterback Marcus Mariota is no exception. A report out of staradvertiser.com in Hawaii a couple of weeks ago claimed Kevin O'Connell, who is now expected to be the Browns' new quarterbacks coach, is Mariota's private QB coach. And that's fueled fresh speculation out of Cleveland that the Browns are hot in the pants for Mariota and eager to trade up (with the Bucs?)  in the draft to get him.
Ironically, O'Connell the 29-year-old former Tom Brady backup, tutored Johnny Football about this time last year — and the Browns are about to hire the guy. It sure sounds like they might be hiring O'Connell to work with QB on their roster. But who knows?
Members of the Mariota Gang might enjoy the SI.com video about this new development.