Report: Bucs Didn't Shop Vincent Jackson Or Ask Him For Pay Cut
February 28th, 2015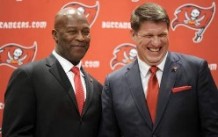 CBS Sports reported this week that the Buccaneers were trying to cut Vincent Jackson's pay.
This morning, Mike Florio has published a firm statement claiming that's silly talk and the Bucs love Jackson.
Florio, NFL guru of ProFootballTalk.com and NBC Sports, even says the Bucs were not shopping Jackson at the trade deadline last year, just listening to various offers for the big man making eight figures.
Welcome to the NFL silly season.
The free agency dinner bell rings in 10 days.
What shook up the wide receiver market a bit was Larry Fitzgerald recently accepting a pay cut. Now he's only making $11 million a year, which is in Vincent Jackson's neighborhood. Fitzgerald, of course, is a future Hall of Famer, an icon in Arizona, and a little younger than Jackson.
As Joe's written previously, reality and the truth in professional sports is a free-flowing situation.
If Brandon Marshall is cut by the Bears, for example, a possibility given their salary cap mess, then the landscape could change. Maybe the Bucs would pursue Marshall and simultaneously ask Jackson to take a pay cut.
The Bucs are in no position to be cutting productive, good football players. Jackson is one of those guys, and Joe believes Florio is on the money.
For now.