Numbers Not Good For Goldson
February 8th, 2015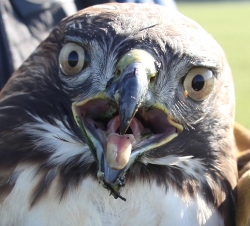 Oh, there are going to be changes on the Bucs. There better damn well be!
When you are the worst team in the NFL, when you win but two games, if there are not significant changes, then NFL s(p)it rolls uphill, not so much downhill.
Over at ESPN.com, Pat Yasinskas is looking at players on thin ice with the Bucs. In his recent offereing, Bucs safety Dashon Goldson goes under the microscope.
Why he could be on the hot seat: Although he missed two games due to an injury, Goldson produced zero interceptions and was credited with only one pass defensed. Those aren't the kind of numbers you want from a free safety. Goldson is a good tackler, but he isn't a great fit in the Tampa Two defense. The coaching staff seemed to sour a bit on Goldson as the season went on. He started coming off the field in some passing situations and was used as a rotational player. Goldson is scheduled to count $8 million toward this year's salary cap. His contract probably is more expensive than any team would want to take on in a trade, so it's possible the Bucs might end up releasing him.
Joe really likes Goldson, but if you are not contributing, you are a drag on your team.
Sure, Goldson is a leader and a great teammate, but at the end of the day, you have to produce. Goldson, who signed a five-year, $41.25 million contract with $22 million guaranteed, per Rotoworld.com, has a grand total of one interception with the Bucs in two seasons. One!
The numbers — very high salary and very low picks — do not add up to much job security for Goldson.