"Nothing Could Be Further From The Truth"
February 24th, 2015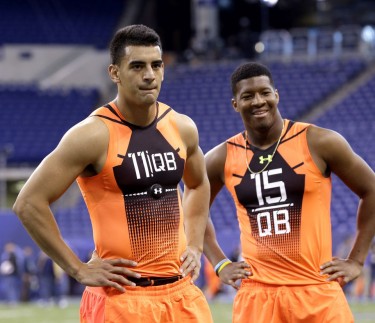 Former standout University of Colorado quarterback Joel Klatt, who also played professional baseball, is one of the more unsung analysts around. Joe's definitely a fan of his work on FOX Sports 1.
Klatt continues to be in disbelief at what he considers a misinformation campaign when it comes to the 2015 NFL Draft.
Klatt's latest draft "big board" was released yesterday on FOXSports.com, and he remains firmly in the Marcus Mariota Gang, claiming there's a bunch of BS floating around about Mariota's football skills.
2. Marcus Mariota – QB – Oregon

Knocking Marcus has become the fashionable thing to do, which has solidified my evaluation even further. Every year, the QB who is the best prospect is picked apart by every outlet trying to make a splash. Mariota has great size, weighing in at 222 pounds and standing 6-3 3/4 at the combine, the exact same height as Jameis Winston. Strong and accurate down the field, yet most will say that he didn't make NFL throws. Nothing could be further from the truth. He made these throws every week, and he showed anticipation, velocity and accuracy while getting through his entire progression on a regular basis. Tampa Bay needs a QB, and it should look no further than Marcus.
For those wondering, Klatt ranks Jameis Winston his No. 4 overall prospect. (Joe will share more on that later.) In addition, during a recent FOX podcast, Klatt said Winston came across in his news conference as " immature, cocky, arrogant, a lot of contradictions in his argument."
Klatt also said Mariota is a model of consistency in every area on and off the field, which Klatt believes will serve him well at the next level when he will lose games and be treated, at times, as the worst quarterback in the league.