Not Just Turnovers
February 7th, 2015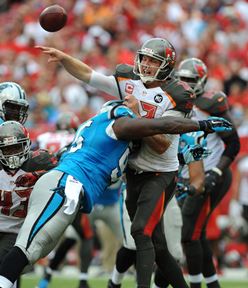 Joe always is suspicious of stats. Aside from the fact stats give Joe flashbacks to nuns with pointers and grade school math classes, Joe learned in high school that anyone can twist numbers any way they like in order to prove a point.
Some stats are nice to shed light on things. Other times, Joe wonders what is trying to be proven.
Numbers cruncher Thomas Bassinger of the Tampa Bay Times broke out his calculator, and in his digging found Josh McCown wasn't just a turnover machine for the Bucs; he was actually just a bad quarterback.
But J McCown's overall accuracy % (excludes drops, throw aways, spikes, etc.) was 3rd lowest (67.7) among QBs to attempt 300 passes. #Bucs

— Thomas Bassinger (@tbassfootball) February 6, 2015
Of course, the first question Joe had was, how can one decipher what was a "throw away" and what was a garden variety incompletion from McCown?
Bassinger noticed McCown had similar accuracy rates on deep passes Peyton Manning and Ben Roethlisberger.
Right there is twisting of numbers Joe referenced previously. While accurate, it implies McCown was in the same category as Roethlisberger and Manning. Anyone who watched McCown last season knows better — and considers how the Bucs had receivers who could consistently out-rebound defensive backs for jump balls.