Marcus Arroyo Lands New Gig
February 28th, 2015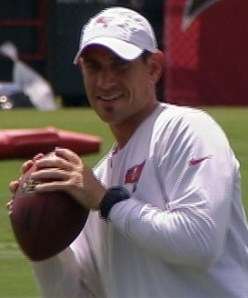 When ill-suited Marcus Arroyo was only days into his gig as de facto-offensive coordinator, after Jeff Tedford became sick last year, Bucs fans were hoping above hope Arroyo would get hired away by anyone — IBM, Apple, Bank of America, Sears, Burger King.
Under Arroyo's leadership, the Bucs offense simply fell apart. There is no other way to spin it. Arroyo was over his head and it showed week after painful week.
Arroyo was, predictably, shown the door after the season. But he has risen like a phoenix. Well, sort of.
It seems Arroyo has landed a job at Oklahoma State, reports The Oklahoman.
Marcus Arroyo, Greg Adkins and Jason McEndoo joined the Cowboys as assistant coaches. Their specific roles have yet to be determined.
The role Arroyo should have had with the Bucs, had he stayed, was that of bagel fetcher and coffee slap. Given how the Bucs offense was terrible beyond words, that was about Arroyo's skill level.