Lovie Smith Talks To Joe
February 18th, 2015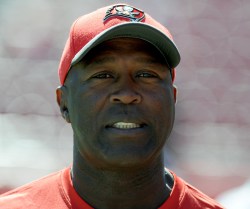 Tampa Bay head coach Lovie Smith was kind enough to give Joe a little time for a one-on-one interview this morning from the NFL Scouting Combine in frozen Indianapolis, just before he went on BSPN Radio and declared he would be comfortable having Jameis Winston lead his Bucs.
Lovie discussed how the Bucs plan to tackle free agency, how they evaluate the team from top to bottom after the season, edge rushers, and if free agent defensive end Adrian Clayborn's days with the Bucs are over, and more.
JoeBucsFan: Understand you want to put last season in the past. It was a terrible season and you want to turn the page. But how excited are you to be the one who dictates this draft? The Bucs control whoever they think is the best player. Is this about as enviable position a coach and a team can have entering the draft?
Lovie Smith: It is. If there is some consolation from a year like that, we do get the picks. Going 2-14 says you need a lot of help in a lot of different areas. What you can do in the offseason is try to get your coaching staff the way you would like it to be going into next year, and we like what we have done. And of course, the draft. I mean, that is big. Of course, we are here right now [for the combine]. Free agency of course is coming up. There are a lot of ways we can improve our ballclub. The draft is a big part of that.
Joe: Free agency, maybe you won't go after such big fish with big contracts, cutting big checks, but you will be active in free agency. How that shakes out, will that determine how you draft?
Lovie: I think you take every opportunity to improve your ballclub, period. Free agency is the first thing up, so you have to look at that. I wouldn't say – you made a point about writing big checks – you want to be active ,and when I mean active you look at all available guys. See if they fit in to what you want to do and then you take the steps necessary, and that's what we will do.
Joe: Now with fans, when you mention free agency, they think of big names which often mean big checks, but often there are a lot of players that may not break the bank but are solid players and could have an impact.
Lovie: Oh, very good players. I think when you look at free agency, most of the time, it is some of those bargains you get [that are important]. Guys, for whatever reason, just need a change in scenery. Maybe even just want a short-term place to go to show their worth and prove exactly who they are. So we will look at all of those types of options.
Joe: What do you like about this draft? Are there any areas or a group of players that impress you?
Lovie: You know, they give you a variety of different ways to go. There are a lot of good players – again, we are early in the process. I don't know an awful lot but I know there are good rushers, a lot of good linemen. Each year, there are good positon players coming out at most positions. With us having the No. 1 pick, a lot of people will ask us about the quarterbacks. There are two quarterbacks who have played at a high level in college football. It will be a lot of fun to kind of watch them and evaluate them along with some other players.
Joe: At this point, do you let Jason [Licht] and the personnel department do most of the research [on the college prospects] and you are more worried about the guys currently on the 53-man roster? And focused on how you can improve the players that are currently on the team, and let the personnel department do its job while you weigh in later as the draft approaches?
Lovie: No, we are just concentrating on our players during the season. Once the season ends, you shift over to – there is constant evaluation going on of our systems, offense, defense, special teams. There is player evaluation, too. Our roster, free agency, draft, our coaching staff will be involved in all of that.
Joe: Adrian Clayborn. He is a free agent. Hurt most of last two years but does play a position where you have a need, at least for depth. Is there still a chance of him coming back?
Lovie: Everyone is on the table. Everyone. Looking forward to going through the process and seeing who we can put together for next year.