Licht Dances On Veteran QB Questions
February 18th, 2015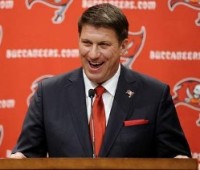 Will Tampa Bay repeat the Josh Freeman mistake?
Joe has trouble imagining a scenario in which the Bucs don't land a seasoned veteran to help guide their new rookie QB and compete for a backup job.
At the very least, Joe would expect the Bucs to sign a veteran QB body to compete through training camp, a guy who could serve as a sounding board to the rookie. Sorry, but Joe doesn't consider Mike Glennon to be that experienced voice for a youngster to lean on, and the Bucs' new QB coach has never coached the position in the NFL.
General manager Jason Licht jumped on SiriusXM NFL Radio this morning with Rich Gannon and Bruce Murray to talk all things Bucs, live at the NFL Scouting Combine.
Licht was very candid, but not when it came to a question about the quarterback position.
Licht was asked about adding a veteran quarterback in free agency, and whether he considered Glennon a veteran. Licht did not answer either question directly, or claim that Glennon could serve that lead dog role.
"We really like Mike a lot. Our new coaches like him," Licht said. "He's a guy we want to continue to work with. We have a lot of different options that we talk about. Do we want a third quarterback? Are we, you know, we're going to leave all our options open in the draft, too. Right now, we like Mike Glennon and we're going to move forward with him."
Again, this fuzzy answer was not typical in Licht's candid interview.
If the Bucs don't bring in a decent veteran QB to challenge for the job, then they'll have zero leverage in trading Glennon. So that's another reason it should be done.