Lovie Says Mariota Has Made All The Throws
February 18th, 2015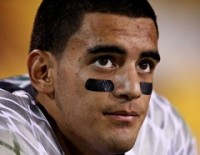 There's the chat Lovie had today in front of NFL Network cameras and media this morning. And then there was the chat Lovie had with Joe and other media away from the spotlight.
It was there that Lovie planted a Marcus Mariota flag that many thought couldn't be done yet.
Lovie was asked about whether he needed to see Mariota throw into "tight windows" and other NFL-style completions not seen regularly in the University of Oregon offense. The Bucs head coach said he's already seen plenty.

"I think there is enough throws for you to like what [Mariota] has done. I've seen him complete every throw that he'll have to make in the NFL," Lovie said. "And I know part of the game and system he runs there are a lot of flare routes and different screens, and people tend focus on that, but I think you can find him completing and throwing into tight windows throughout."

On Mariota, Lovie added, "what I see is a big strong athlete that's great off the field and on, that's won a lot of football games, protected the ball, given his team an opportunity to win quite a few games."
For those keeping score, this morning Lovie said he is comfortable with Jameis Winston being the face of his franchise, he has seen it all from Mariota, and Glennon can be a franchise quarterback.