Licht: Logan Mankins "Excited"
February 18th, 2015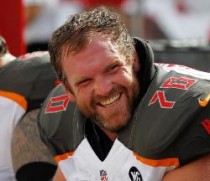 In his post-press conference press conference, Bucs general manager Jason Licht fielded all sorts of questions. One was about barbecue pitmaster Logan Mankins.
The left guard who sure seemed like he left his heart in New England, and has been pining for a place to hold a barbecue since he came to town, apparently has either had a change of heart, found someone with a grill, or both.
Licht said Mankins is "excited" to get the 2015 season underway.
"I have a great relationship with him," Licht said. "We text back and forth. He says he is excited. He said he has never started training this early. And he is very excited about the future here and what he can bring to the Bucs."
This is good to hear but color Joe suspicious. Yeah, Mankins had an off year last year. Yeah, he sure never seemed he wanted to be with the Bucs from the moment he first arrived. Perhaps watching his former team win a Super Bowl was some sort of therapy.
An axiom of an offensive line is that if a left tackle struggles, so too will the left guard. We all know about Anthony Collins.
Joe hopes Mankins fires up a strong brisket in his green egg. Hopefully, that will somehow translate to better play on the field.
In case you missed Licht's press conference, the audio is below thanks to Joe's partners in crime at WDAE-AM 620.