Learning From Mistakes
February 23rd, 2015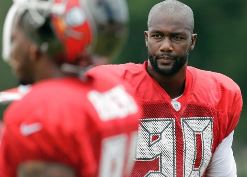 A Dunedin dentist once left Joe's mouth all screwed up and screaming for pain medication and Valium.
Joe never returned to that dentist.
Real life can be very simple sometimes. And so can managing a football team, if you're willing to evaluate players based on performance and not let ego, salary considerations and misguided hope get in the way.
Joe believes the Bucs' 2015 decision on defensive end Michael Johnson should be an easy one: Wave goodbye.
"Ghastly and ghostly" described Johnson's play in 2014 — and that was playing alongside arguably the best defensive tackle in the game.
SportsOnEarth.com scribe Kenneth Arthur looked at Johnson today in a piece on free agency regrets. Even the spreadsheet data is bad on Johnson.
Michael Johnson, Buccaneers

Contract: Five years, $43.75 million, $18 million guaranteed

Johnson turned a good 2012 season (11.5 sacks) into a big free agent deal in 2014, despite a poor 2013 (3.5 sacks) because teams are just that desperate to find pass rushers. It's not as though Johnson is a bad defensive end by any means — he's quite good — but his talents did not translate well to Lovie Smith's defense during his first year in Tampa.

After recording 10 batted passes on the defensive line in 2013, he had zero in 2014. He also had just four sacks and 15 QB hurries, per ProFootballFocus, and that ranks him in a tie for 38th place in QB hurries among 4-3 defense ends with Lamarr Houston, another 2014 free agent bust.
Joe's beating a deal horse a bit here. But Johnson also appeared in an article today on the Bengals' official website (yes, Joe's a psycho when it comes to NFL research), and it seems the Bengals are longing to replace their beloved Johnson. (No, Joe doesn't expect any sane individual to trade for Johnson.)
As that Bengals.com story notes, NFL Network draft guru Mike Mayock claims this is the best class of edge pass rushers in years. This definitely isn't the year to put more faith into Johnson.