Jameis Winston And Baseball
February 23rd, 2015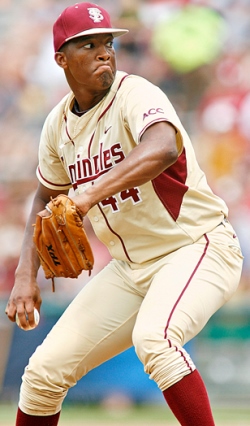 Maybe it is because Peter King of theMMQB.com wrote about it this morning, but Joe is starting to see a brushfire beginning to grow about Jameis Winston and baseball.
Yes, for those who aren't familiar, Winston is a baseball pitcher. And a damned good one. His Florida State ERA last season was 1.08 and he had a strikeout/walk ratio of 31/7, and a fastball often clocked in the mid-90s.
For the longest time, Winston openly talked about his goal of being a two-sport star, much like his fellow Seminole Deion Sanders and his hometown homie Bo Jackson.
Difference is, Jackson and Sanders were not pitchers. Winston is a pitcher. And neither Jackson nor Sanders were quarterbacks.
Last week, when Winston finally held his press conference for the 1,071 assembled reporters in frozen Indianapolis, Joe asked him if his baseball career is over (you can hear Joe and see Winston's reaction at the 2:27 mark).
As Corey Clark of the Tallahassee Democrat wrote (he, too was there for Winston's press conference), Winston didn't say no. He only said, "I'm a quarterback." Later, with Steve Mariucci of the NFL Network, Winston said the same thing. "I'm a quarterback." At no point did he say he was done with baseball.
Now this might not be as sinister as one may think. If Winston can't make it in the NFL, there is always baseball to fall back on. Why would Winston give up on baseball when it could be his golden parachute?
Then again, the Bucs (or another NFL team) want a guy who is going to treat quarterbacking as a hobby?
Joe is going to guess that if the Bucs draft Winston, there will be a clause in his contract that he cannot play baseball, other than throwing out a first pitch or taking batting practice at the Fruitdome.