Jameis Watch: Shameful Hate!
February 20th, 2015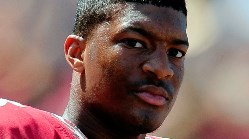 Crab-legs-stealing, BB-gun-shooting, obscenity-hollering, Heisman-Trophy-winning, former national champion Jameis Winston, the pride of Florida State University, continues to look like a much better quarterback prospect than Mike Glennon and Josh McCown.
It's Joe's daily nugget on the Jameis Watch, celebrating the best quarterback to wear No. 5 ever in the state of Florida.
Joe has had it. Enough is enough. It's time to start waging war on the haters for the sake of innocents across this football-loving nation and free land known as 'Merica.
Having a keyboard does not give one the right to traffic in character assassination. And that is just what a certain Gannett columnist is doing in her best effort to kill the professional career of one quarterback, Jameis Winston.
Joe gets it if you think Winston's picks disqualify him as an NFL quarterback. That's fair. Joe gets it if you think Winston will be a bust because every Jimbo Fisher-tutored quarterback before him has sucked eggs in the NFL. Again, fair if not honest critique. But to suggest Winston is a child-beater or a woman-beater without a shred of evidence is out of hand and Joe will call your arse out for such granstanding and empty moralism.
Yes, Winston got accused of getting too handsy with a woman, an allegation that has been disproved three times. THREE! Joe can accuse anyone of anything; that is a far cry from fact.
This emotional national columnist — Joe doesn't want to give said stenographer the honor of typing her name much less linking to her work — she doesn't deserve it — claims Winston needs to meet with NFL warden commissioner Roger Goodell to confess his sins.
For what!? He has maintained his innocence and the allegation has never been proven accurate. Notice Winston has never been charged for his alleged rowdiness with a woman?. NEH-ver! Been cleared by a retired state Supreme Court justice, in fact.
This dame — hey, she deserves the moniker — even linked Winston with Ray Rice, Adrian Peterson and Greg Hardy. Good God, the unmitigated gall of this chick. Why stop there? Why not group Winston with Rae Carruth while you are at it?
What a female dog!
It is sickening for Joe to even recount her drivel. Joe spoke with a well-known national columnist this week in frozen Indianapolis who also works for a prominent TV network who thinks Winston has become a pinãta for weak and lazy writers. This broad who went after Winston just proves that theory.
Look, Joe gets it if someone doesn't like Winston for his play on the field, his picks, his childish stunts at Publix and Burger King or his brash personality. All fair points. But to tar and feather the kid and give him a scarlet letter for an alleged crime he was cleared of three times, or as Bucs coach Lovie Smith said this week, he has been "exonerated" for, is beyond the pale.
Where was/is the same outrage for Mark Sanchez and Zach Mettenberger, who in college were cleared and plead guilty in sexual assault investigations, respectively? Why is Winston so special for this diatribe?
And Joe will see to it those lazy frauds get called out for their feces.