Jameis Watch: "Scared To Death"
February 16th, 2015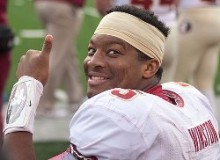 Crab-legs-stealing, BB-gun-shooting, obscenity-hollering, Heisman-Trophy-winning, former national champion Jameis Winston, the pride of Florida State University, continues to look like a much better quarterback prospect than Mike Glennon and Josh McCown.
It's Joe's daily nugget on the Jameis Watch, celebrating the best quarterback to wear No. 5 ever in the state of Florida.
Fear of drafting Jameis Winston has gripped the top draft guru of this generation, Mike Mayock of NFL Network.
Mayock is trembling along with the anti-Winston crowd, except Mayock is pro-Winston and believes Winston is the surest draft prospect among this year's quarterback class.
Mayock checked in with Bucs-uniform-frowning, Allie-LaForce-smitten, Big-Ten-Network-hating, pedestrian-bumping, olive oil-lapping, popcorn-munching, coffee-slurping, fried-chicken-eating, oatmeal-loving, circle-jerking, beer-chugging, cricket-watching, scone-loathing, college football-naïve, baseball-box-score-reading, NPR-listening, filthy-hotel-staying, fight-instigating, barista-training Peter King, of Sports Illustrated and NBC Sports fame, for his weekly must-read column today.
Mayock: "It's not a good quarterback class. I'm scared to death of Jameis Winston off the field, and I'm scared to death of how many interceptions he throws. He threw seven interceptions against Louisville and Florida, and could have been 12 or 13 if the other teams could catch the ball. But most quarterbacks come out of the spread now, and they're projections, like Marcus Mariota. I love so much about Mariota, but he is a projection. I'm much more comfortable projecting Winston, even with the interceptions, because he was a pocket guy at Florida State. And his ability to win games in the second half is mind-boggling."
Joe understands the Jameis fear, but "scared to death" is a bit much.
Regardless, the state of mind of Team Glazer likely is all that really matters. And Joe suspects Team Glazer is fearless now as they investigate their potential No. 1 overall pick.