Jameis Watch: Lovie Says He's Comfortable
February 18th, 2015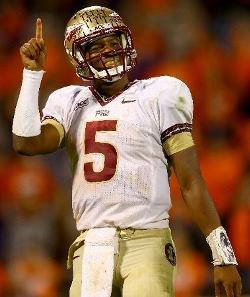 Crab-legs-stealing, BB-gun-shooting, obscenity-hollering, Heisman-Trophy-winning, former national champion Jameis Winston, the pride of Florida State University, continues to look like a much better quarterback prospect than Mike Glennon and Josh McCown.
It's Joe's daily nugget on the Jameis Watch, celebrating the best quarterback to wear No. 5 ever in the state of Florida.
Just after Joe got a one-on-one with Bucs coach Lovie Smith this morning, the headmaster of the Pewter Pirates went on BSPN Radio and told the national listening audience he is comfortable with having Florida State quarterback Jameis Winston as the leader of his offense.
Allegedly, Team Glazer is on board, and it is believed Bucs general manager Jason Licht has Winston high on his wish list. And now Lovie is on record saying he has no problem with Winston on his roster leading the Bucs offense.
Better start ordering your Winston Bucs jerseys.