Jameis Watch: A Nod To The Jets
February 10th, 2015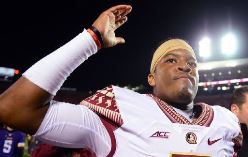 Crab-legs-stealing, BB-gun-shooting, obscenity-hollering, Heisman-Trophy-winning, former national champion Jameis Winston, the pride of Florida State University, continues to look like a much better quarterback prospect than Mike Glennon and Josh McCown.
It's Joe's daily nugget on the Jameis Watch, celebrating the best quarterback to wear No. 5 ever in the state of Florida.
Jameis Winston is across the country in San Diego training for his NFL workouts, and presumably ridding baseball from his brain and preparing for a media grilling of epic proportions next week.
Yesterday, Winston took to Instagram to show off his fun day on the water. Winston strapped on a jet pack and flew. (Somewhere, his representatives are cringing).
Joe's got most of Winston's photo medley below. Somehow, Winston haters are sure to determine this photo proves he's unfit for Tampa Bay.