"I Think There May Be Some Tension In The Front Office"
February 10th, 2015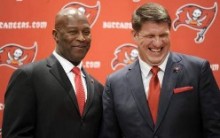 One of the NFL's biggest insider voices made a bold statement about the Buccaneers yesterday.
Mike Florio of NBC Sports and ProFootballTalk.com, a guy with superior sources who has interviewed Lovie Smith and Jason Licht during their Bucs tenure, thinks the great quarterback divide has made its way to One Buc Palace. (The video is only available here.)
"I think there may be some tension in the front office on this," Florio said during a discussion of the Bucs' No. 1 overall pick in the 2015 NFL Draft.
Florio said he believes Lovie prefers to trade down and Licht is in the draft-a-QB camp.
"That's how legacies are made. You get a franchise quarterback you contend every year for a decade or longer,"  Florio said.
Florio asserts Lovie would rather not gamble on a QB because he believes a team can win without a superstar gunslinger and drafting a surer thing would be preferable.
What's scary is it is easy to believe Florio here. Lovie is the same guy who wanted to launch his regime with Josh McCown and Mike Glennon, rather than draft a quarterback last year. However, Licht said last year the Bucs had total personnel consensus on all moves.
Again, Florio has excellent sources. Joe is still wondering why Florio, the day after the conference championship games, opted to write about nuances in Michael Johnson's contract. That's almost meaningless content for his giant national audience. The timing made Joe feel like Florio had someone connected to the Bucs pitching him the story.