Inside A Mariota Interivew
February 23rd, 2015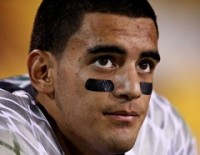 Chris Landry went from Browns and Titans scout/personnel guy to media dude and draft consultant for various NFL teams. So Landry was at the NFL Scouting Combine studying prospects and joining team interviews of players last week.
He shared some of his experience watching Marcus Mariota work a room and get grilled, via CBS Sports Radio.
In short, Landry is in love.
"Everybody's going to see players a little different," Landry said. "Everybody is going to put greater emphasis on certain things than others. I actually was in a couple of the interviews . . . with Mariota. He's phenomenal. I mean, he's going to impress you. He is well-spoken, he's bright, he's humble. He walks into the meeting – you guys would be impressed."

Landry was present for two of Mariota's interviews. Mariota walked into the room both times and knew the names of every coach and executive in attendance.

"You could tell he had done his homework," Landry said. "He had questions for them, and he did a good job. One team drew up a play – one of their plays, not an Oregon play – and then proceeded with the interview. Towards the end of it, they asked him to draw up the play that was explained about eight minutes ago, and he was flawless with it. He's very, very good. He's going to do a great job with that.

"So listen, if you're looking for someone that is clean, that's got transferrable skills, that has the ability to be able to learn, he's going to measure with high marks there."
Word on the street is Jameis Winston is wowing in these same private interviews. (And Mike Mayock had the nerve a week ago to say the Bucs are not in an enviable position.)
Again, Joe's greatest fear is the QBs' value will skyrocket, and Lovie Smith will be tempted to trade the No. 1 overall pick for a massive bounty to, say, the Jets, or one of the many quarterback-starved teams smart enough to draft Winston or Mariota.