Dubious Quarterback Gazing
February 23rd, 2015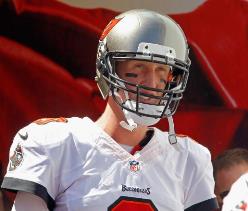 There has been a whole lotta talk about quarterbacks in this neck of the woods we call Tampa Bay. That's because quarterbacking here recently has been like a cheap Sharknado movie on the Syfy Network.
Only problem is, since leaky, sleepy Josh Freeman went mental, the quarterback play has eaten up this team so badly it has a chance to select Jameis Winston with the first pick in the draft.
Some Bucs fans still believe (tea leaf reading be damned) the starting quarterback gig is Mike Glennon's to lose, despite Lovie Smith knighting Glennon as the quarterback of the future but benching him for turnover-prone Josh McCown.
Well, the "Custodian of Canton," eye-RAH! Kaufman of the Tampa Tribune, isn't buying it. He is valuing actions over rhetoric.
If Glennon is truly the Buc QB of the future, he would have been their QB in Dec., when TB averaged 14 points and committed 8 TO with McCown

— Ira Kaufman (@IKaufmanTBO) February 18, 2015
If, as Lovie said, he was putting the best 22 players on the field to win games, then it's hard to fathom how he left out Glennon. McCown proved to be simply over his head as a starter. Glennon actually beat the playoff-bound Steelers on the road for half of the Bucs' wins. McCown could only beat the sorry Redskins.
It still doesn't add up to Joe. But with the draft of Winston, it will have all been worth it.