"I Think Glennon, He Should Be The Future Of Tampa."
February 9th, 2015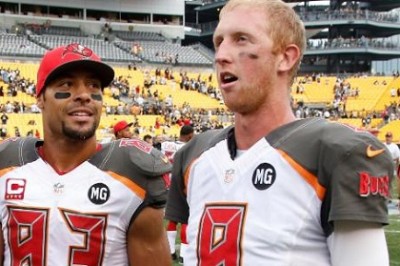 Awaken the Mike Glennon Mob!
A man inside the Bucs' locker room last season weighs in on the ousting of Tampa Bay's young quarterback.
Joe had a very long chat with former Bucs starting linebacker Jonathan Casillas during Super Bowl week in Phoenix. Casillas, of course, was traded to the Patriots in late October, when the Bucs were 1-6.
Among other things, Joe wanted Casillas' take on the real feelings in the Bucs locker room when Mike Glennon took over for Josh McCown, and what the six-year veteran thought about the stunning switch back to McCown.
"I don't know why they switched back," Casillas said. "To be honest with you, I was a huge supporter of Glennon and McCown. As much as McCown did in Chicago for part of the [2013] season, Glennon taking the reins and a terrible team in the first half of last year and winning four games in the second half [last season] was just as good.

"That's all attributed to Glennon. Defense was playing well, but we had to have a quarterback in there making the plays. And he made a lot of big plays. He's got an incredible arm, you know. I think his future is very bright. Hopefully, Tampa can figure that situation out. That kid is very talented."
Were you surprised when you saw Glennon was pulled from the starting lineup in November? Joe asked.
"A little bit surprised. Yeah, a little bit," Casillas said. "I feel like Glennon played well when he came in for McCown. When Josh started the season off, he didn't play as well as he wanted to, as well as he expected to, and well enough to win games for us. And Glennon's so young and played pretty well when he did.

"We felt good in the locker room about both quarterbacks when I was there. But Glennon was like a fresh breath of air. It's tough when you're losing. You know, you feel like anything will work. The locker room was happy to make a change to Glennon. You see a coach make a change when you're doing bad, you feel like it's going to be good for you no matter what. The Glennon change, even though it was due to injury, I feel like it gave a little confidence and we won the next game, which was great for a team that played poorly without Glennon in there.

"I think Glennon, he should be the future of Tampa. The respect for him is there."