Bud Light Bottles Up Warren Sapp
February 6th, 2015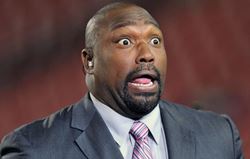 "Alex" has had a rough last few months.
The so-called Bucs superfan watched his beloved team nosedive into the worst lot in the NFL, 2-14 (though they won the Chase for Jameis). That is nearly enough to quit drinking (one can only guzzle so much to numb the pain).
Now, it seems the man who threw Alex's ultimate Bucs party is out of the loop as well. TMZ.com reports Bud Light has dropped former Bucs great and Pro Football Hall of Famer Warren Sapp from its campaign. Thus, Sapp won't be throwing any more parties at Alex's house.
This move comes in the wake of Sapp getting pinched for whoring, and charged with assaulting two women in Phoenix early Monday morning.