Blame The Offensive Line
February 1st, 2015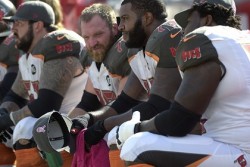 The Bucs had a rotten time, for the most part, running the ball last year.
Yeah, Doug Martin was hurt early — so he told Joe after the season. And Bobby Rainey was benched, with some claiming he put the ball on the ground too much, despite not fumbling fumbled since September.
And Charles Sims was forced into the lineup before he was ready, as if someone was trying to prove his worth as a third-round pick.
Woody Cummings of The Tampa Tribune typed up a nugget on why the Bucs running game was akin to running in quicksand, and you can look no further than the offensive line.
A viable running attack was one of the many things the Bucs failed to develop this past season. They finished ranked 29th overall in that discipline, averaging just 85.9 yards per game and 3.9 yards per carry.

Smith placed most of the blame for those poor averages on his offensive line, saying the Bucs won't really know what it is they have in RBs Doug Martin, Charles Sims and Bobby Rainey until the line improves.

"It always starts up front,'' Smith said at season's end. "And we know we need to get that part straight. Once we do that, we'll have a chance to see who Doug Martin, Charles Sims and Bobby Rainey really are.''
Well, even though the offensive line stunk out loud, somehow, when Rainey played, he found holes (often on the right side where Demar Dotson worked).
Again, Joe wouldn't be shocked to see four new starting offensive linemen — not saying that will happen, but it would not be a shock.
If the Bucs do keep left-his-heart-in-New England guard Logan Mankins, Joe hopes some staff member with the Bucs is able to help him find a suitable spot to practice his pitmaster magic.