New JoeBucsFan Feature Kicks Off Tomorrow
January 31st, 2015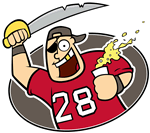 The great popularity of Joe's summer countdown feature, Worst Buccaneers Of The Past 10 Years, has spawned a new offseason examination that kicks off tomorrow before the Super Bowl.
Readers will join Joe in uncovering the Top-30 Bucs Mysteries Of 2014.
Joe can already feel the drama and sense the water cooler arguments that will ensue across the Tampa Bay area.
Joe's team of researchers gathered at the JoeBucsFan.com world headquarters, and there were several pounded fists and beer bottles tossed in anger.
It should be good fun. Hopefully, the Bucs' top mystery of 2015 won't be, 'Why didn't they draft a quarterback?"