"At A High-Degree Of Difficulty"
February 6th, 2015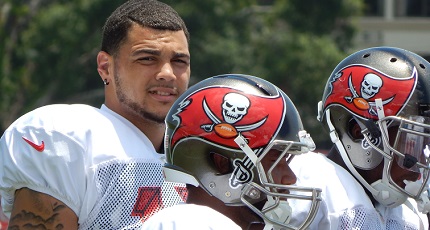 Out in Phoenix during Super Bowl week, Joe chatted with a renowned former wide receiver about one of the great surprises of Tampa Bay's 2014 season.
No, Mike Evans playing well was not shocking, but for the bumbling Bucs to have two 1,000-yard receivers, Evans and Vincent Jackson, was stunning.
One of the best players never to make a Pro Bowl, ex-Giants WR Amani Toomer, had five consecutive 1,000-yard seasons and caught 668 balls. He knows a thing or two about the position after 13 years and earning a Super Bowl ring.
Toomer said Evans' and Jackson's accomplishment was special.
"It tells you that they did it at a high-degree of difficulty because of the quarterbacks situation," Toomer said. "Usually, there's guys that get all these opportunities, or they have the top-flight quarterbacks. But to get that amount of production, it says something. … But it also means maybe their quarterback situation is not as bad as people think."
That last QB comment sent chills down Joe's spine. Joe hopes Lovie Smith isn't going there.
Toomer went on to say that as much as the Bucs need a QB, the worst thing the team could do would be to reach for a QB with"reach" thing annoys Joe. If your coaching and scouting staff believes a college QB can be a winning NFL starter rather quickly, and your team needs a quarterback, it's not a reach to draft him.