"You're Not Going To Get A Third Year, If You Put Up Another 2-14 Or Something Like It."
January 22nd, 2015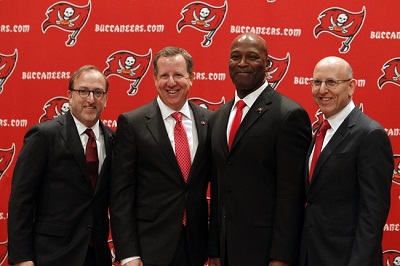 Welcome to the hot seat, Coach.
The proverbial "hot seat" for an NFL head coach typically is a creation of prominent local media.
And as Bucs beat writer for the Tampa Bay Times and morning host on WDAE-AM 620, the Buccaneers' flagship radio station, Rick Stroud would qualify as prominent. And he placed charcoal under Lovie Smith this morning during a chat about the draft and Lovie's current activities at the Senior Bowl.
"This year, look, it's an important year," Stroud said. "You're not going to get a third year if you put up another 2-14 or something like it, no matter who you're quarterback is or what your first pick is or anything else."
So there you have it. Count Stroud among the crowd that Lovie won't get a pass for another dreadful season, even if he's breaking in a rookie quarterback.
Joe's in that camp, too. With a first-year head coach, the Vikings managed seven wins in a much tougher division with a rookie QB starting after miserable Matt Cassel was lost to injury.
The Bucs have to find a way to be competitive and relevant, especially in a struggling division. And that doesn't mean patting yourself on the back for losing a lot of close games.
Raise your hand if think Lovie Smith will be a failure next season if the Bucs finish in last place. Joe's hand is up.
Stroud went on to say he saw promise or production from the Bucs' first three draft picks last season, and the Bucs need at least the same success there this season.
Yes, the Bucs need to nail the upcoming draft. It shouldn't be difficult.
(You can hear all of Stroud's Thursday Bucs takes via the 620wdae.com audio below.)