"You Can't Put A Price Tag On That"
January 6th, 2015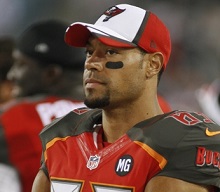 Yesterday, Joe brought word that a former Buccaneer said Vincent Jackson isn't worth the $10 million owed him in 2015.
Tampa Bay general manager Jason Licht agrees.
Licht, however, is not taking the negative slant. Licht made it clear that Jackson's true value can't be measured.
Speaking on the Buccaneers Radio Network last week, Licht raved about the Bucs' offensive captain.
"Everybody on our team really holds Vincent in very high esteem, as a person and as a player," Licht said, "And he sets such a great example for these guys without even knowing he's doing it. He's one of those guys that is gonna behind the scenes mentor young guys and not tell anybody he's doing it. He doesn't want a gold star for it. I mean, we all know that he's big in the military, in support here, and he's got a little bit of a military mindset when it comes to unselfishness.

"So he's a very valuable player. In addition to being a very good player, he's a great person in this locker room. And, yeah, you know, you can't put a price tag on that."
Man, that sure sounds like the Bucs wouldn't even consider parting with Jackson this offseason.
Joe would like to see Jackson return, but Joe surely wouldn't bet on it. The Bucs might decide to pull a Revis and look two land two quality, younger players in free agency for the price of Jackson, plus a draft pick as part of a Jackson trade.