"They Kind Of Let The Players Go"
January 23rd, 2015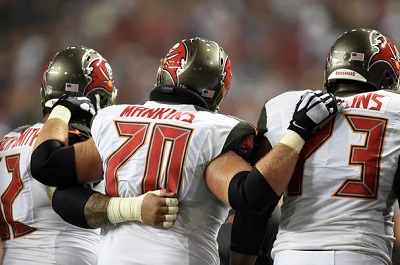 More light was shed yesterday on the relaxed management style of Tampa Bay head coach Lovie Smith.
Lovie is no Greg Schiano, who regulated meal temperature, toe location, water-bottle holding and more en route to seven-win and four-win seasons.
Gerald McCoy spoke on ESPN Radio yesterday and revealed that Lovie is rather loose.
"He leaves everything that goes on in the locker room and downstairs with the players up to us," McCoy said. "The leaders in the locker room, the captains, we have captains meetings with the head coach and then he lets us go and take care of everything. So I think it really depends on what coach is coaching the team.
"[Lovie and his staff] let you take control, and if they don't like, you know, they'll regulate it. But for the most part, they kind of let the players go."
Lovie is known for being unwavering in his approach. He's steady. The man is a rock when it comes to his way and his emotions. Typically, that's a great thing, but not always.
Hearing McCoy yesterday, Joe's wondering if Lovie might tighten the reins a bit — or hope the team, which votes for its own captains, picks a different breed of leadership. However you want to spin it, the Bucs' leadership failed last year. You don't trail 56-0 to a division rival on national television in Week 3 with a strong core of leaders on the roster.