Derrick Brooks: Bucs Need A "Character Development Plan"
January 23rd, 2015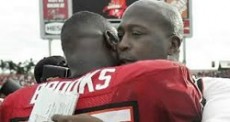 Are the Bucs ready to handle a high-maintenance draft pick?
That's a damn good question.
One could argue every team drafting a rookie quarterback needs a plan to help the kid adapt to immense media pressure and commitments, to grown men looking to him for leadership, and much more. Of course, that pressure is heightened when the rookie is a QB and a No. 1 overall pick who has made stupid decisions in college.
Enter Jameis Winston. Bucs icon and Florida State legend Derrick Brooks is a big fan of Winston but he recognizes that the young man will require extra care.
"Not only the Bucs, but any team that's looking to draft Jameis [needs] to have, you know, a character development plan. What's that going to look like?" Brooks said on Tampa-2 on WDAE-AM 620 this week.

Brooks said he wished the Bucs had more veteran leadership and but said he's ready to help, if called upon to support Winston.

"Whatever plan that is [for the Bucs], I'm anxious to see it," Brooks said "If they ask me to be a part of it, I extend myself as much as I possibly can to do it due to those relationships. But it's also going to be critical [to see] what plan Jameis and his team have to present during these interviews as to how he plans to develop better as a young man."
Joe can already hear fans reading this and saying, "Crap. If Winston needs a character development plan, then the Bucs better not draft him."
It's a fair point. But the counterpoint is that Winston's character isn't that bad and only needs improvement, and the Bucs are in the business of winning football games not winning Boy Scout badges.