Special Love For Jason Williams
January 25th, 2015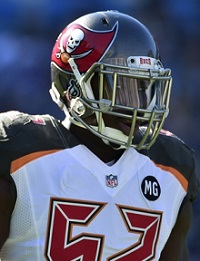 Joe knows the Bucs-junkie audience here is drooling for any juicy piece of Bucs insight on this football-free Sunday.
No, the Pro Bowl isn't football, and no Buccaneer is playing anyway.
So Joe wanted to share something he learned about the Bucs' special teams recently. Tampa Bay is very high on the work done by late-season pickup Jason Williams, a linebacker cut by Carolina in early December.
The Bucs snatched up the special teams ace, and he was considered an absolute standout for Tampa Bay in the three games he played special teams.
A 2009 third-round pick by Dallas, Williams' never panned out as a linebacker, but he's survived in the league for his special teams prowess. He was with Carolina in 2010 and 2011, and then picked up by Carolina in 2012, after the Eagles cut him.
In late November, the Panthers had two punts blocked en route to losing to Minnesota, and Williams was cut after that game. Joe went back and watched those blocked punts, and Williams doesn't appear to be the guy at fault. So Joe can't pin cutting Williams on that.
But that's all old news. At 6-1, 245 pounds, Williams, 28, made a couple of starts for Ron Rivera at weakside linebacker. Those already making 2015 roster charts should have his penciled on their boards.