Clarifying The Record On Bajakian
January 25th, 2015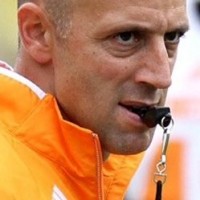 A report on new Bucs quarterbacks coach Mike Bajakian is interesting but misleading.
The good folks over at BucsNation.com penned a piece yesterday claiming Bajakian said he expected to have input into Tampa Bay's decision-making in the NFL Draft, specifically at quarterback. An recent interview on WNML-FM in Knoxville was cited and quoted.
However, Bajakian was never asked about the NFL Draft. Here's the exchange, per Joe's exact transcription:
WNML-FM Host: As the quarterbacks coach, will you have input into Tampa Bay's selection?
Mike Bajakian: Yeah, I gotta assume I will. You know, in talking with Dirk Koetter, the offensive coordinator and Lovie, and with my previous experience with Coach Smith, there's always been a sharing of ideas and a sharing of thoughts. And, obviously, you come to a conclusion based on the information that everybody gives. And everybody gets behind it 100 percent. But yeah, I'm going to assume that I'm going to have quite a bit of input.
During the interview, the Bucs' use of the No. 1 overall pick wasn't being discussed prior to that question. There was no discussion of the NFL Draft.
One could just as easily assume Bajakian was talking about evaluating players on the Bucs' roster and offering his take on the quarterbacks depth chart, not who will be selected in the NFL Draft. Personnel decisions are way beyond the pay grade of a quarterbacks coach with no NFL experience at that job.
Joe's not trying to slap BucsNation.com here. Joe just can't make the leap they did.