Schefter: "Sights Set" On Marcus Mariota
January 29th, 2015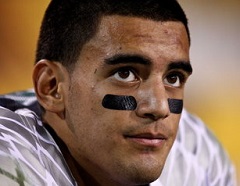 Joe's not sure of what to make of BSPN super insider Adam Schefter's latest call on the Bucs' choice with the No. 1 overall pick in the 2015 NFL Draft.
Schefter offered his five compelling offseason storylines, and Tampa Bay's decision topped his list. He confirms NFL types like Jameis Winston as the top dog, but the Bucs are looking west — to Oregon.
1. Who will be the No. 1 pick in the 2015 draft? Many NFL executives and scouts believe Florida State's Jameis Winston is the best pro quarterback prospect in this draft. Of course, teams still have three months to dig into Winston's past and see what they can uncover. Plus, there's a real sense that Tampa Bay has its sights set on Oregon quarterback Marcus Mariota. So for now, Mariota shapes up as the most likely No. 1 pick. But there are still three months of combine work, pro days, interviews and investigations to go.
Joe's not really sure what Schefter is saying here. Fans can speculate left and right, backwards and forwards.
If Mariota and Winston had similar off-field histories, then Joe's sure Winston would be the Bucs' slam dunk No. 1 pick, whether Father Dungy or Rich Gannon believe otherwise or not.
For Joe, the question is whether the Bucs will go with the best prospect, or the guy least likely to be a bust.
Lovie Smith prides himself on being a glass-half-full human being, in all phases of his life. So Joe suspects Lovie is leaning Winston. However, Joe thinks Team Glazer ultimately will make this franchise-altering call.