Report: Winston Will Declare For NFL Draft Today
January 7th, 2015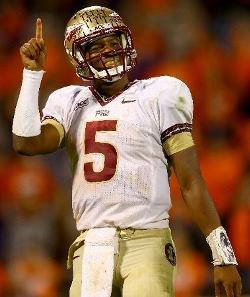 That massive exhale you just heard from St. Pete Beach to Valrico was from legions of Bucs fans who can't wait for Tampa Bay to draft crab-legs-stealing, BB-gun-shooting, obscenity-hollering, Heisman-Trophy-winning, former national champion Jameis Winston.
Winston has thrown in the towel on Florida State Football — and baseball — and will declare for the NFL Draft today, so reports ESPN. Winston's dad talked to the network.
Winston, of course, continues to look like a much better quarterback prospect than Mike Glennon and Josh McCown. And numerous NFL experts believe he's the most talented and NFL-ready QB in college football. The ESPN report claims Winston earned a first-round grade from the NFL draft advisory committee that advises college athletes.
Man, Winston would look great in a Bucs uniform.
Right now, Joe is recalling what legendary FSU and Bucs radio voice Gene Deckerhoff said about Winston six weeks ago.
"Jameis Winston has never been charged with a crime. He has never been arrested. He has won 23 consecutive games, every game he has started. He is a leader in the clubhouse on the baseball team. He is a team leader in the locker room on the football team. Yes, he did win the Heisman trophy a year ago when he led his team, as a freshman, to a national championship. All the kid does is win.
"He's been honored as much as any player in the history of college football, at least to this point in his career. And yet he is probably the most maligned and the most hated guy in a college uniform.
"I will say this: I've been around Jameis. I've been around his family. He goes to class. He's a 3.0 or better grade point average. He rides a bicycle to class. He is the quintessential student athlete. I'm very proud that Jameis Winston is the quarterback of the Florida State Seminoles.
"I'll promise you this. He will win a Super Bowl for whichever team that drafts him in the National Football League."