"Makes Me Wonder Who ESPN Is Hiring As Draft Experts"
January 11th, 2015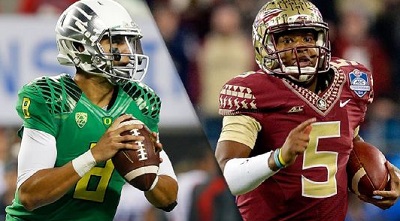 The biggest knock on University of Oregon quarterback Marcus Mariota is that he's not running anything close to an NFL offense, therefore, the experts say, he's got a lot to learn in order to become NFL-ready.
This line of thinking makes no sense to former Bucs backup quarterback Scott Frost, who happens to be Mariota's offensive coordinator at Oregon.
Speaking to media recently at a news conference about Monday night's national championship game, Oregon vs. Ohio State, Frost expressed his frustration at the "NFL-ready" argument when it comes to Mariota.
"Makes me wonder who ESPN is hiring as draft experts," Frost said, when asked about the opinion that Mariota isn't as NFL-ready as Jameis Winston.
Joe appreciates Frost's passion for his player, but that is the consensus — from ESPN talking heads to guys like Warren Moon, Donovan McNabb, Trent Dilfer, Shaun King, Bucky Brooks and many others Joe has documented right here. They think Winston is ready now, and Mariota is at least a year away.
Joe cautions fans to realize the draft is a wacky, fluid phenomenon. Last year at the time, Teddy Bridgewater was the consensus No. 1 overall pick, and he actually came from a pro-style offense at Louisville.
But then the draft experts watched him have a rough pro day and oddly decided he was a little skinny, and Bridgwater fell to the last pick of the first round, where Minnesota wisely traded up to draft him.
Joe never bought into the Bridgewater nonsense, and Joe regularly campaigned for Bridgewater-to-the-Bucs until draft day.
The point is that, right or wrong, Joe expects there to be plenty of twists and turns to the quarterbacks debate for at least the next few months.