Jameis Watch: "Perennial Pro Bowler"
January 11th, 2015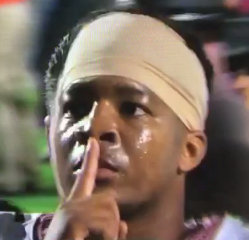 Crab-legs-stealing, BB-gun-shooting, obscenity-hollering, Heisman-Trophy-winning, former national champion Jameis Winston, the pride of Florida State University, continues to look like a much better quarterback prospect than Mike Glennon and Josh McCown.
It's Joe's daily nugget on the Jameis Watch, celebrating the best quarterback to wear No. 5 ever in the state of Florida.
Often, very often, guys who never made it to the NFL or who had forgettable NFL careers make the best analysts. Quick, what NFL team did Bill Belicheat play for? Or Bill Walsh? Or Mike McCarthy? The list goes on and on and on.
That is why Joe does not dismiss borderline NFL players. At all. One's ability to play has zero connection to how well he breaks down players and the game itself. That brings Joe to BSPN analyst Danny Kanell.
The former NFL signal-caller pretty much had a garbage pro career, yet squeezed seven seasons out of his limited talent. He played the game and knows what it takes to succeed in the NFL, partially because he didn't succeed.
Kanell is not only in the Jameis Winston camp as being a stud NFL prospect, but also believes Winston is a future elite NFL quarterback, so he recently told Matt Baker of the Tampa Bay Times.
Former FSU QB Danny Kanell said he believes Winston should be the No. 1 pick because of the system he runs with the Seminoles and his ability to take hits in the pocket.

"I think the upside potential is infinite with Jameis Winston, I really do," said Kanell, now an ESPN analyst. "I think he can be a perennial Pro Bowler at the next level."
Joe always listens to folks who either played the game or worked in an NFL office making a living breaking down players. Joe emphasizes those guys, rather than those who hope to work in the NFL and flood Twitter with their own breakdowns.
The list of NFL types giving Winston a thumbs-up continues to mushroom.