Lovie Is Part Of A Trend
January 19th, 2015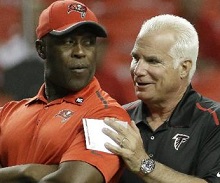 Whaddya know! A couple of defensive wizards are coaching in the Super Bowl, Pete Carroll and Bill Belicheat.
Yeah, both teams have elite franchise quarterbacks, but the head men are still defensive guys who want to pound the rock and beat you physically and mentally with defense.
Bucs-uniform-frowning, Allie-LaForce-smitten, Big-Ten-Network-hating, pedestrian-bumping, olive oil-lapping, popcorn-munching, coffee-slurping, fried-chicken-eating, oatmeal-loving, circle-jerking, beer-chugging, cricket-watching, scone-loathing, college football-naïve, baseball-box-score-reading, NPR-listening, filthy-hotel-staying, fight-instigating, barista-training Peter King, of Sports Illustrated and NBC Sports fame, notes in his column today that defensive-minded head coaches are an emerging NFL trend.
The more notable coaching statistics this month:

All five head-coaching openings before Sunday had been filled by defensive coaches.

Six of the eight teams playing on divisional weekend last week had head coaches with defensive backgrounds, and three of the four coaches in the championship games were defensive-based. And obviously New England and Seattle, the Super Bowl teams, are coached by defensive experts.
King attempts to explain there may be no significance to all of this, but Joe finds that silly.
It's not a coincidence. But it doesn't mean teams are less interested in offense. Just take a look at how NFL teams have overvalued quarterbacks in the draft, and how the league has made rule changes to favor offense.
Joe suspects that somehow the analytics crowd is somehow involved with the shift toward defensive-minded head coaches, such as Bucs overlord Lovie Smith. More and more teams are employing stat geeks to help in every decision, from personnel to playcalling.
The Bucs are on their third consecutive defensive-minded head coach. They're 30-70 in their last 100 games.