Lavonte David Talks To Joe
January 29th, 2015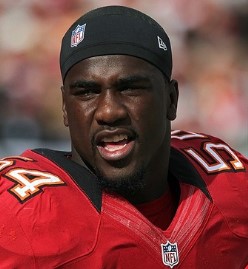 As he promised weeks ago on "10 Sports Extra" with Joe's friend Chris Fischer, stud Bucs outside linebacker Lavonte David arrived in Phoenix, site of Super Bowl XLIX, to roam through radio row yesterday and go through the car wash.
David had made it clear he wanted to start marketing himself to stop these galling snubs from Pro Bowl honors and All-Pro teams.
With one more season on his contract, David, no doubt, also is marketing himself to the NFL, in case his team and the Bucs can not reach an agreement.
David had but a few brief moments when Joe caught up to him, but David was kind enough to talk.
JoeBucsFan: Last year, yeah, it was an ugly year. But for the final 10 weeks or so, defense was not the problem. You guys played decent defense. How motivated are you — are you chomping at the bit to get back to playing already to prove to the NFL that you are not a 2-14 team?

Lavonte David: Me, personally, that's how I feel right now. I'm ready to get back after it. I am ready for OTAs to get here so that we can start working and start that mindset on the whole team. Yeah, it was a tough year for us. Things didn't turn in our favor. Everything that could have gone wrong did go wrong. Luckily, we have next year to look forward to.

Joe: Speaking with a Bucs defensive coach a few weeks ago, won't mention his name, Joe asked him how much of the struggles were because the coaches — who were all first-year coaches with Tampa Bay — had to learn you and your teammates as players, too? A lot was made about how players had to learn the new system, Lovie's system. Could you tell that it took the defensive staff time to learn your skills and your teammates' skills?

David: Yeah, I think so. We both had to feel each other out. We had to learn how they coach and they had to learn how we react to coaching and things like that, and teaching formats and things like that. I think as [time] went along, everybody got on board with everybody else. Everybody understood what was wanted and what was needed from each other, both coaches and players. Defensively, I think that's why there was such a big turnaround from the beginning [of the season] to the end.

Joe: Surely you talk to your teammates a lot and have since the end of the season. Among that chatter, you all know you finished 2-14. Do you or any of the other Bucs think changes [in personnel] are going to happen because of that record?

David: Uh, nah, not at all, man. Like you said, it was a tough season, but a lot of football games we were in we could have won. So you can't really point fingers at anybody. It is us as a whole. Us as a group. We have to be accountable for that.