Jameis Watch: "They're Going To Tell Jameis That"
January 16th, 2015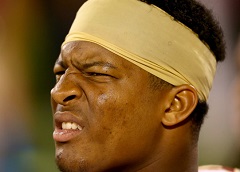 Crab-legs-stealing, BB-gun-shooting, obscenity-hollering, Heisman-Trophy-winning, former national champion Jameis Winston, the pride of Florida State University, continues to look like a much better quarterback prospect than Mike Glennon and Josh McCown.
It's Joe's daily nugget on the Jameis Watch, celebrating the best quarterback to wear No. 5 ever in the state of Florida.
Those obsessed with the Marcus Mariota-Jameis Winston debate will enjoy the video below.
Donovan McNabb joins former Bucs stud left tackle Donald Penn and a couple of FOX Sports studio types to talk about the highly touted college QBs.
McNabb says Winston needs to be "surrounded by a great group of veterans who have families" that will straighten his ass out if he starts acting stupid.
"Listen, If I got my kids in the house and my wife in the house and am trying to pay bills, you ain't going to mess that up for me," McNabb said. "So [teammates] are going to tell James that in the beginning. If he has money in his pocket or not, Jameis understands that. Same with Marcus Mariota."
Penn goes on to say, "I've never seen anyone win football games by being nice."
There's more in the video, in addition to Penn endorsing Jameis as the first quarterback off the board in the 2015 NFL Draft.
This is one reason Joe would like to see the Bucs keep Vincent Jackson. He's the kind of guy who can actually keep a rookie QB focused, though he didn't have much lasting luck with Mike Williams.