Brooks: "Comfort, Experience & Excitement"
January 16th, 2015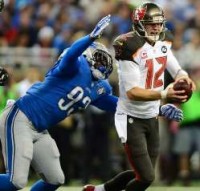 Just look at how Lovie Smith approached his search for a new offensive coordinator.
There's insight to be gleaned from the approach, says Derrick Brooks, and Bucs fans should like what's coming, despite the uncertainty at quarterback.
Brooks talked about his favorite professional football team this week with Steve Duemig of WDAE-AM 620.
Lovie moved away from the "experiment" of last season and a coordinator new to the NFL, Brooks said. It was evident in the candidates interviewing, and Brooks is impressed by the hiring of Dirk Koetter.
The combination of his diverse experience is the cake, and the icing is Koetter's knowledge of the NFC South.

"So he knows Carolina. He knows the Saints. He knows the Falcons, in terms of that personnel. So he brings that to this football team. He's used to calling plays against your division opponents, Brooks said.

"Overall, he's understood what it took to develop a young quarterback and call plays for a young quarterback. So he can bring that experience, and being used to being in front or a room of pro coaches and teaching. I think you can draw some comfort level, in term of what this means. I would say comfort, experience and excitement; I would use those three words in describing what Coach Kotter is going to bring."
Brooks went on to praise Koetter as a hire that can handle a transition to "a very different team" than what he had in Atlanta.
What's unclear, Brooks said, is how Koetter will jell with the head coach and offensive coaches under contract, as well as if Koetter will have the freedom to hire his own assistants.
Joe noted that one thing Koetter made very clear during his news conference was that he works for the head coach and is not overlord of offensive operations.