Jameis Watch: Backhanded Theismann Pick
January 26th, 2015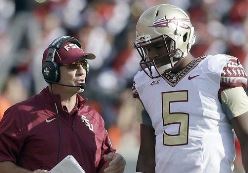 Crab-legs-stealing, BB-gun-shooting, obscenity-hollering, Heisman-Trophy-winning, former national champion Jameis Winston, the pride of Florida State University, continues to look like a much better quarterback prospect than Mike Glennon and Josh McCown.
It's Joe's daily nugget on the Jameis Watch, celebrating the best quarterback to wear No. 5 ever in the state of Florida.
Super Bowl winning quarterback Joe Theismann, never afraid of a strong opinion during his long broadcasting career, was happy to weigh in on the popular quarterback debate last week on the Ron and Ian show on WDAE-AM 620.
Theismann has a preference when it comes to Jameis Winston and Marcus Mariota, but he wouldn't draft either one if he were Lovie Smith.
Here's his full take:
"I don't think that Marcus Mariota, great guy, congratulations Heisman Trophy winner, I don't believe he should be the first player in the draft," Theisman said. "It's not like the [Bucs] football team is deficient completely like some teams in the quarterback position. I think possibly [trading down] for Bryce Petty might be the best move. Certainly, there are some [teams] that are in need of quarterbacks very badly behind Tampa Bay.

"I just don't see where picking [Mariota] and choosing him is necessary the right move for the Tampa Bay Buccaneers with the first pick in the draft.

"Jameis, I still think is a little bit of a project. He's still, you know, still learning to play the quarterback position. He's played and had a lot of success, and that's always something I look it — is guys that have had success at the college level understand and learn how to win. And certainly, Jameis this year displayed an incredible resiliency. Played through injury, you know, lost one football game his entire career.

"He knows how to win. I think he's a young man that's going to have to grow into the position a little bit. I think he's much further ahead than E.J. Manuel was when he want to Buffalo. But I'm not sure I would take a quarterback with [the No. 1 overall pick.] If I did, I'd probably take Jameis if I had a choice."
Bryce Petty, the Baylor QB? Yes, Joe realizes Petty will climb in mock drafts and on some team draft boards, courtesy of overvalued quarterbacks and desperate teams. But Joe would vomit if the Bucs passed on Mariota or Winston in favor of a trade down and a selection of petty.
Don't mess with fate. The Bucs didn't lose their last game before the home fans to start the Bryce Petty era.
Enjoy Theismann's full audio below, via 620wdae.com