Jameis Watch: "The Spat"
January 6th, 2015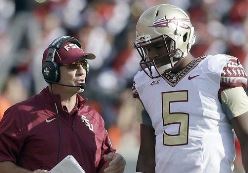 Crab-legs-stealing, BB-gun-shooting, obscenity-hollering, Heisman-Trophy-winning, former national champion James Winston, the pride of Florida State University, continues to look like a much better quarterback prospect than Mike Glennon and Josh McCown.
It's Joe's daily nugget on the Jameis Watch, celebrating the best quarterback to wear No. 5 ever in the state of Florida.
You saw it. Joe saw it. Everybody saw it. As Florida State was starting to melt down in the second half of the Rose Bowl against Oregon, on the sidelines, Jameis Winston was so worked up, Seminoles coach Jimbo Fisher said, per the lip-readers, "If you don't calm down I'm going to bench you."
For the Jameis haters, it was yet another example why Bucs coach Lovie Smith should settle for lesser talent in the draft. For those who like animation on the sidelines, it was a reason to draft Jameis.
To some NFL types, the spat was nothing whatsoever and no reason not to draft Jameis, per Jim Corbett of Florida Today.
"It's a small piece of the evaluation," Senior Bowl executive director and former Cleveland Browns general manager Phil Savage said in a text. "They (Winston and Fisher) go at it like that every day in practice and games."

"That exchange doesn't factor because that stuff happens all the time," six-time NFL executive of the year and current ESPN and SIRIUS NFL Radio analyst Bill Polian said. "The only reason people take notice of it is because the cameras are everywhere. … That's no issue at all. They had a rough time protecting him, and that's the problem."
Look, how many times have you heard fans whine that Lovie is stoic on the sidelines? And people are going to whine because a quarterback has passion and emotion on the sidelines?
As former Bucs quarterback Shaun King, one of only three Bucs quarterbacks to lead the Pewter Pirates to an NFC Championship game, would say, "Child, please."