"I Prefer It"
January 2nd, 2015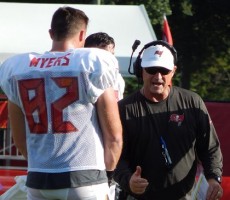 Those still intrigued and/or banging their heads against walls over the Jeff Tedford debacle will be interested in this.
The former Bucs offensive coordinator was interviewed on sports radio in Canada recently and shed a little more light on his situation.
Tedford clarified that he was ready to return to work with the Bucs with four games remaining in the 2014 season. That's about the time he and the Bucs officially parted ways.
I "was really able to go back [to work] with about four weeks to go [in the Bucs season]. But it would have interrupted the continuity of what went on," Tedford told TSN.
Tedford, the new head coach of the BC Lions of the CFL, was asked whether he missed being a head coach.
"I don't know that I missed it, I prefer it. I will tell you that," Tedford replied. "I was in that role for a long time at Cal for 11 years. And, you know, not that I didn't have a good experience in Tampa as the coordinator. The unfortunate health thing came through, but to be a head coach, and to run an organization, a football program is something I really enjoy the challenge. I really enjoy the whole team."
Not wanting to disrupt the "continuity" of the Bucs offense also was part of Tedford's official statement upon leaving Tampa Bay.
Insert your own punchline: What continuity? Abandoning the running game in the second half? Mind-numbing offensive ineptitude?
Aaron Rodgers, a longtime friend of Tedford, told Joe that Tedford left because he didn't want to take the job of his protégé, Marcus Arroyo.
Something still doesn't add up. What is clear, though, is that Tedford got sick, needed three months to recover properly, and wasn't on the same page as Lovie Smith when he ready to coach again.