Bucs Iced Out On All-Pro Votes
January 2nd, 2015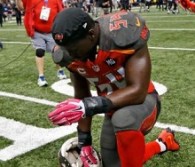 Last year, Tampa Bay had two All-Pro players, Lavonte David and Gerald McCoy.
This year? Zip.
The votes are in from the panel of NFL writers/voters across the country.
The closest the Bucs got was Gerald McCoy. Lavonte David, who was an All-Pro last year, slipped considerably in the voting.
Here's the voting tally:
Tackles
Ndamukong Suh, Detroit, 41; Marcell Dareus, Buffalo, 24; Gerald McCoy, Tampa Bay, 13; J.J. Watt, Houston, 5; Kyle Williams, Buffalo, 4; Aaron Donald, St. Louis, 4; Sheldon Richardson, New York Jets, 4;Sen'Derrick Marks, Jacksonville, 2; Fletcher Cox, Philadelphia, 2; Calais Campbell, Arizona, 1.

Outside Linebackers
Justin Houston, Kansas City, 47; Elvis Dumervil, Baltimore, 13; Von Miller, Denver, 11; Connor Barwin, Philadelphia, 11; DeAndre Levy, Detroit, 7; Clay Matthews, Green Bay, 5; Ryan Kerrigan, Washington, 3; Lavonte David, Tampa Bay, 2; Terrell Suggs, Baltimore, 1.
This is no surprise. David didn't have anywhere near the sack and interception totals he had last year. In fact, he didn't pick off a pass in 2014. And the Bucs' garbage record and low-ranked defense didn't do him any favors.
Yes, Lovie Smith used David differently than Greg Schiano did. And one could argue Lovie didn't maximize David's skills, aka put him in position to make more plays.
Regardless, David is an All-Pro in Joe's mind. And look for David to get paid like one real soon.