Get It Right!
January 3rd, 2015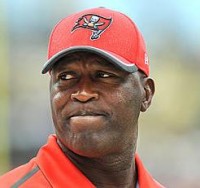 It is a long way from January 2016, but Joe is going to guess that after a horrific 2014 (barring Tampa Bay drafting Jameis Winston or Marcus Mariota) a garbage season won't cut it in 2015.
The Bucs came off a very bad 2013, a year in which its franchise quarterback went mental.
Team Glazer then hired Lovie Smith, and things got as bad as they could get, as the Bucs won the Chase for Jameis.
For the Bucs to pull themselves out of the garbage dump, it is imperative they pull the right lever on the right guy to replace Jeff Tedford and ill-suited Marcus Arroyo. Andrew Astleford of FoxSportsFlorida.com explains.
Will Smith go with someone with a college background again? Or will he opt for a proven NFL mind? Here's guessing Smith will tap someone with NFL experience, though the choice likely must tailor the Bucs' new scheme around a rookie's strengths if Tampa Bay selects a quarterback with the No. 1 overall pick.

The Bucs' failures on offense this season are Exhibit A of how crucial it is to have an effective system in place with the mind behind the scheme at the controls. It's hard to blame quarterbacks coach Marcus Arroyo for his struggles calling plays. He was placed in an impossible position of trying to gain a feel for Tedford's creation, and center Evan Dietrich-Smith put it best Monday when he said, "You can maybe kind of look at it as someone gives you a box full of stuff and gives you a picture of what it should look like but doesn't give you instructions." But in this opportunity to begin anew on offense, the Bucs must not miss.
This hire must be right and it must be good. Joe really thinks if the Bucs draft a quarterback (Jameis) it will buy Lovie two years because he will say to Team Glazer, "Look, it takes time to develop a quarterback." No argument from Joe.
And you must get a guy with a proven ability to mold quarterbacks. 49ers offensive coordinator Greg Roman is just that kind of guy.
If the Bucs get the right quarterback (Jameis, naturally) and the right coordinator to groom him, Lovie will have a long Bucs career.
Choose the wrong guy, incur another horrid season, and it would not shock Joe if the Bucs are head coach hunting this time next year.