Confidence In Lovie Jumps Significantly
January 4th, 2015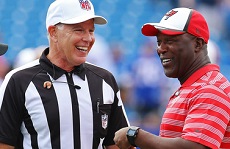 Bucs fans really seemed to love how the Lovie Smith regime found a way to win the Chase for Jameis by losing to the Saints.
Results from Joe's weekly Lovie Smith confidence poll were stunning.
Previously, Lovie Smith's confidence rating hovered consistently just under 35 percent. But last week, support for Lovie ticked up.
Thousands of voters on Tuesday and Wednesday recorded the following when asked to grade their confidence in the head coach:
Totally Confident – 6.45%
Very Confident     – 7.6%
Confident            – 29.25%
Little Confidence – 31.29%
No Confidence    – 25.41%
That's a JoeBucsFan.com confidence rating of 43.3 percent. During Christmas week, Lovie was at 34.3 percent.
Joe's not sure what this all means. Perhaps the three interceptions of Drew Brees sparked more confidence in Lovie's defens?
Or maybe fans were just buoyed by Lovie getting the job done finding a way to lose — the only smart thing to do.