"Clearly So Much Worse"
January 5th, 2015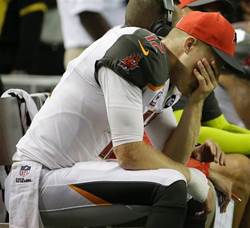 There was more than one Sunday when Joe watched turnover-prone Josh McCown bumble his way through. It was both sorry and painful, if not revolting.
The Bucs' head coach really thought this guy could lead a team to a playoff run? Really? Seriously?
Sometimes, Joe wonders what the heck was being passed around in Lovie Smith suburban Chicago basement.
Starting McCown over Mike Glennon sure made Joe scratch his head. And Joe was not alone. Vince Verhei, of FootballOutsiders.com, ran the numbers and watched the tape and said it was appalling how far apart the two quarterbacks were this season. He ranked McCown the second-worst quarterback in the NFL.
In McCown's case, he was clearly so much worse than Mike Glennon that there is no logical explanation for why McCown should have been starting by the end of the year — unless the Buccaneers were deliberately tanking for the top pick in the draft, in which case, hey, mission accomplished. Glennon should make a decent enough backup for Marcus Mariota; McCown has somehow accumulated 12 NFL seasons under his belt and should be ready to enjoy a long retirement. (No, seriously, Josh, please retire.)
If the Bucs draft a quarterback, then Joe would be very, very surprised if Lovie got rid of McCown. If you think about it, McCown is the perfect bridge to a rookie quarterback.
If the Bucs do draft a quarterback, sitting him for a year sure as hell would be prudent and very smart long-term. Sit the guy for the season, barring a rash of injuries. Give him time to learn and adjust to the NFL.